Hana no Okashi
is part of the Prism Pretty Cure! Series and belongs to Infinity Mirai
Please do not change any major information without my permission!
If you want to fix grammar mistakes or add any minor category I might've missed, please write in the summary box what you fixed. Thank You!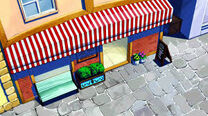 Hana no Okashi (花のお菓子, Flower Sweets?) is the small cake shop run by Sayuri's parents that appears in Prism Pretty Cure!. The cake shop is the first floor of their two story house, while Sayuri's room is on the second floor.
Employees
Description
The cake shop has mainly pastries displayed in the front, and appears as a two-story house. In front there are flowers beside the door on the right, a green bench and a chalkboard.
Pastries
To be added.
References