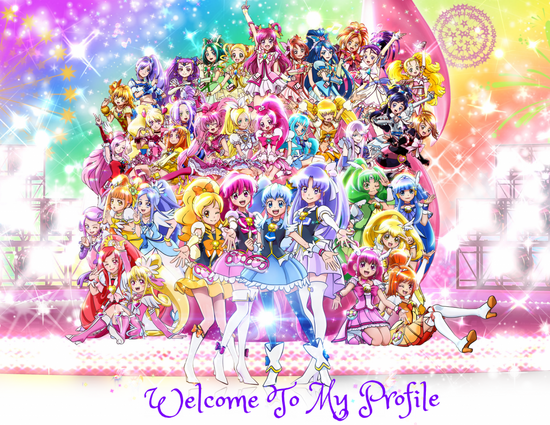 Hi everybody! I'm Anime Angel72 a new user here on this wiki. I have been a huge fan of Pretty Cure since I found it a couple years ago. I have watched all the seasons so far and I loved them. I love this anime so much ~♥.
About Me
I am known as Stefhanie in the real life world and I am a female. I was born on January 7th and currently the age of 14. I live in Alabama,United States of America. My favourite food is well I guess chocolate and Dr. Pepper. while my least favourite food is pickles (yuck can't stand them). My hobbies are writing fan fiction, listening to Japanese music, reading manga, reading books that have to do with mystery,action,and romance and drawing anime characters. I was introduced to anime when my friend Amber showed me Soul Eater. It's weird how I went from Soul Eater to Pretty Cure. I'm also a major Doctor Who fan. I have a lot of anime that I love but here's a few of my favourite anime: Pretty Cure, Soul Eater, Ao no Exoricst, Gosick, Rosario + Vampire and Ouran High School Host Club
Pretty Cure Love ~ ♥
I found out about Pretty Cure a few years ago when I was on Youtube watching a AMV when I of Cure Bloom and Cure Egret transforming. I was like "That looked interesting." So a few clicks to Wikipedia and turns out it was part of a franchise called Pretty Cure. I decided to start with the original Futari wa Pretty Cure and soon I feel in love. Sadly 7 episodes in my internet get cut off for 5 months (worst time of my life). When I got it back I just decided to restart again. I then went down the line of completed series so far. I don't know but somehow I got on the Pretty Cure yuri boat. I have to say my favorite season has to be Futari wa Pretty Cure and it's sequel followed by Yes!~ Pretty Cure 5 and it's sequel. My favorite cure of all time has to be Cure Black/Misumi Nagisa. I now wait for the newest season Go! Princess Pretty Cure to start.
My Fan Series
Community content is available under
CC-BY-SA
unless otherwise noted.